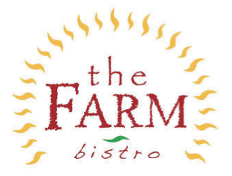 Thank you for your interest in The Farm! We would love to talk with you about your catering needs.
The Farm Bistro & Lounge is a farm-to-table restaurant in historic downtown Cortez. Chef/farmers Rusty and Laurie Hall opened the bistro in 2009 as an extension of their organic farm in Montezuma County, and have earned awards and praise from locals and tourists alike with their "comfort food with style". The Farm uses as much local and organic product as possible, and is sensitive to dietary restrictions.
On- and off-site catering is available year-round. If you don't see what you're looking for in our Catering Guide, we delight in creating custom menus as well.
The Farm Bistro & Lounge can host your event in our beautiful setting complete with a full bar and seating for up to sixty. Minimum charges may apply for groups less than 20. Please note that our seasonal regular dinner service may limit on-site availability. Off-site, we cater events for 20 to 100 guests within 50 miles of Cortez. Buffet and table service are offered, and we are happy to coordinate rentals if needed. Please give me a call or email if you'd like to discuss your event!