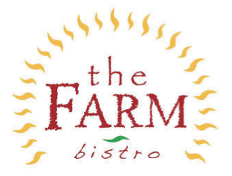 34 West Main in Cortez • Lunch and Dinner monday-friday • 970 565 3834
When The Farm Bistro opened in early 2009, the farm to table concept was just gaining steam across the country. To owners Rusty and Laurie, farm to table just made sense. In the agricultural community of Montezuma county, they knew that locally grown food was fresher and tasted better than food from the big distributors. In 2013, 55% of the bistro's food dollars were spent within 75 miles of Cortez!
By supporting producers who employ sustainable practices, the bistro enables healthy eating and encourages a healthy economy.
Berto Farm
Bountiful Ridge Farm
Burk's Beef
Canyon of the Ancients Ranch
Confluence Farm
Eagle Tree Farm
East Pines Ranch
Homegrown Farm
Lick Skillet Farm
Mesa View Yak Ranch
Red Canyon Farm
Seven Meadows Farm
Song Haven Farm
Stone Free Farm
Stubborn Farm
Sunnyside Farm
The Wily Carrot